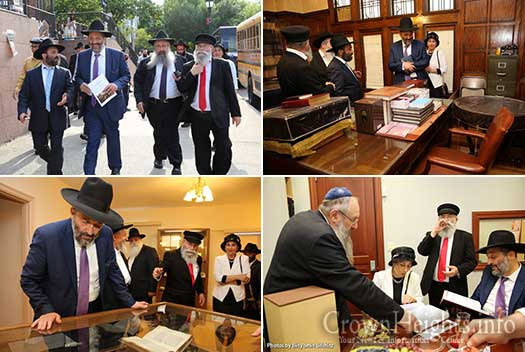 Following a visit to the Ohel, R' Aryeh Deri, leader of the Israeli political party Shas, made a special trip Crown Heights. During the visit he stopped at 770, the Rebbe's Library and the offices of Kolel Chabad.
Deri, who arrived in New York Wednesday morning, reached out to his friends Rabbi Yaakov Gloiberman and Rabbi Levi Edrei and asked that they arrange his visit to the Ohel and Crown Heights.
In Crown Heights he was greeted by Rabbi Sholom Duchman, head of Kolel Chabad, which is the oldest and largest charity in Israel, and Rabbi Zalman Duchman. Together they visited the Rebbe's room and the Rebbe's library.
Following the visit, the group went to the offices of Kolel Chabad for a quick Farbrengen and tour of what Kolel Chabad does in Israel.
Also joining Deri for the visit was Rabbi Yechuzkel Chanunu and Rabbi Gershon Burkis from Israel.