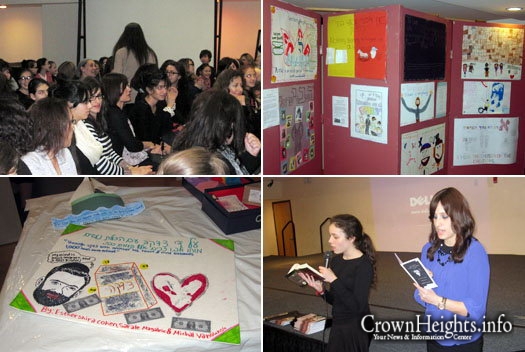 In preparation for Chof Bais Shvat, Bais Rebbe Middle School of Los Angeles C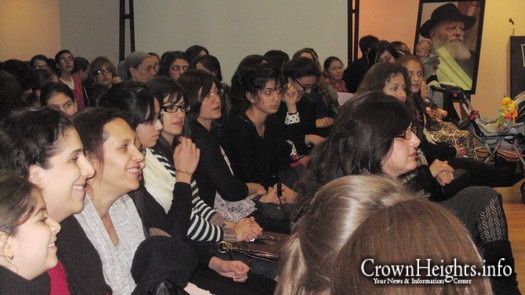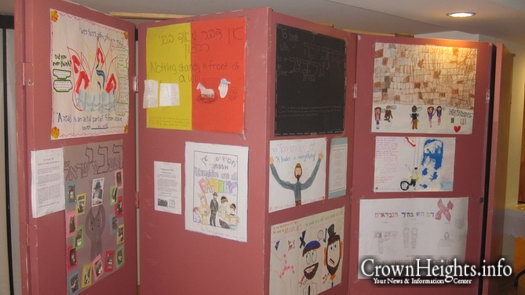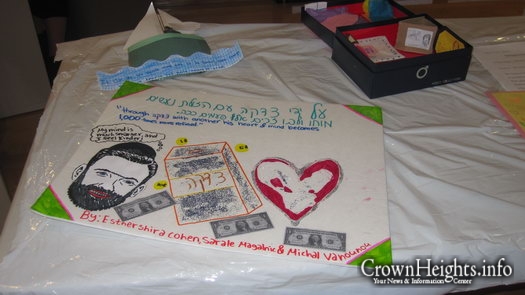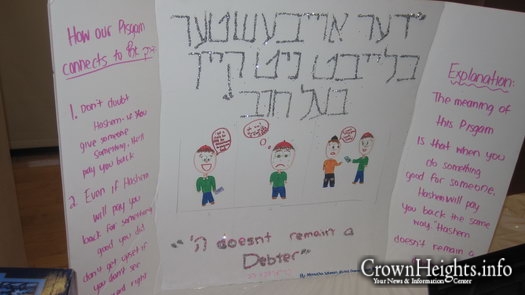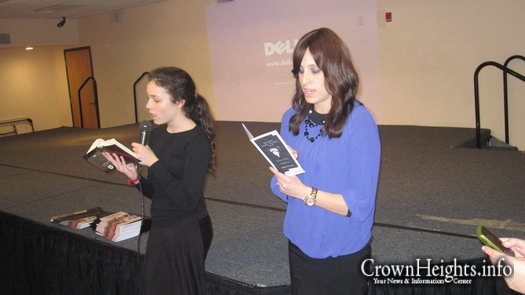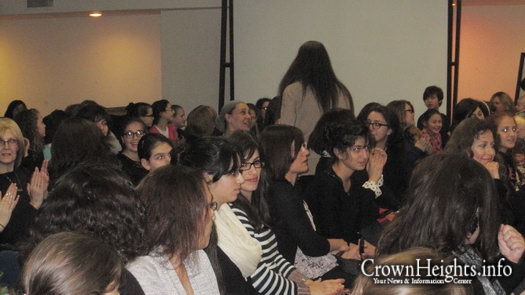 alifornia launched a "Kol Kevuda Bas Melech Penima" program. The goal of the program was to improve each student's derech eretz and instill within each girl the necessary tools to live up to the bas melech that she is.
Weekly missions focusing on different chassidishe pisgamim [quotes] were distributed each week for the girls to complete. Each mission had a point value which was redeemed at the conclusion of the mivtza for a surprise trip. As the school completed the Kol Kevuda Bas Melech Penima program, the girls created beautiful projects based on Chassidishe pisgamim which were displayed at a mother and daughter dinner.
The girls sang a beautiful song, composed by Chaya Baitelman of the 8th grade, including the many pisgamim learned and how it affected their lives. The 6th grade girls wrote a meaningful letter to Rebbetzein Chaya Mushka, how they plan on using what they have learned from this program to live up to the Bas Melech that they are. The 7th graders prepared fun skirts based on how we should behave, using the chassidishe pisgamim that were learned. Awards were distributed to the girls who earned the title of Dugma Chaya in their Derech Eretz.
Mrs. Seewald, principal of Bais Rebbe exclaimed how meaningful this program was for the girls. Each student participated  on her level, and applied the teaching of the Rebbeim to their daily lives. Mrs. Jacobs, a Bais Rebbe teacher did an amazing job coordinating this mivtza and bringing these pisgamim  to life in Bais Rebbe. Mrs. Jacobs found fun, creative and meanigful ways to show how each of the pisgamim can apply to each girl on a daily basis, improving each student's derech eretz.
The following are just a few of the pisgamim which this program was based on:
"If good is good, is better not better?" (Rebbe Maharash)

"Think Good and it will be good" (Tzemach Tzedek)

"When we're connected above, we don't fall down." (ר' מאיר מפארמישלאן)

"The mind rules the heart." (Alter Rebbe)

and meny more.

Although the mivtza is complete, we are sure that the girls will continue to live what they have learned and be a source of nachas to  the Rebbe and Rebbetzein, their parents and teachers.