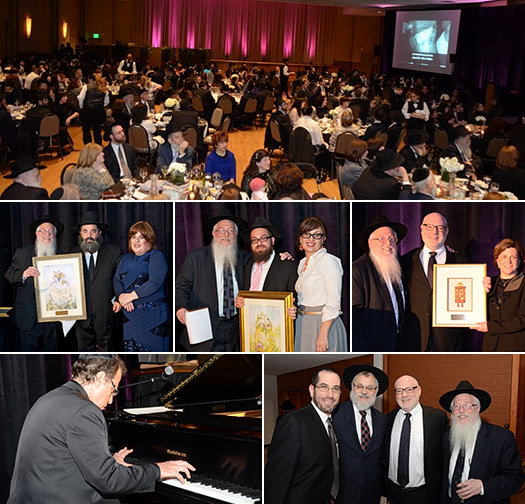 Over 300 people who came from far and near to enjoy the Cheder Chabad Gala in Beth Tfiloh Congregation. The Gala celebrated the culmination of a whirlwind of growth for the school, which opened six years ago in the basement of Tuvia and Alisheva Givre, with only 13 three-year-old students. The Cheder was so successful, it moved the following year to a house it purchased on Cross Country Boulevard, adjacent to Rabbi Lisbon's shul, Bais Lubavitch.
Four years later, this past September, Executive Director Rabbi Elchonon Lisbon, with the strong encouragement of his dear friends, Todd and Calla Samuels, took the giant leap and moved into the much larger Beth Jacob Synagogue. Today, the Cheder, boasts close to 100 children, ka"h, in pre-school through third grade. There are co-ed classes for the 2-5 year olds; boys, only, attend first through third grades. Its girls' school is scheduled to open in the fall of 2013.
Dr. Paul Volosov was very instrumental in offering his guidance and creativity, connecting the Chabad Cheder to the Associated: Jewish Community Federation of Baltimore, enabling the Cheder to move to its present campus, at the former Beth Jacob Synagogue.
In attendance at the Gala, were Associated members: Mr. Michael Friedman, Mr. Yehuda Neuberger, Mr. Mark Smolarz, and Rabbi Larry Ziffer, and community leaders: Mr. Jason Reitberger and Dr. Paul Volosov.  Baltimore City Councilwoman Rochelle "Rikki" Spector, also attended.
Chen Goodman was the MC for the extraordinarily heimishe evening, which featured a video message from the Lubavitcher Rebbe, z"l, Tehilim led by Rabbi Shmuel Kaplan, and a themed message from Rabbi Lisbon. World renowned pianist, Yaron Gershovsky, entertained, playing his very lively, inimitable renditions of some longtime Chabad favorites, like Yifrach, among others. "Builders", an original video, provided the audience with a glimpse of what Cheder Chabad is all about.
Awards were presented to those who played exemplary roles in the growth of the cheder:  Dr. Todd and Mrs. Calla Samuels, the Guests of Honor; Rabbi Mendel and Mrs. Rivka  Hurwitz, the Wellsprings Award; Mr. Charles (Tuvia) and Mrs. Alisheva Givre, The Parents of the Year; The Associated: Jewish Community Federation of Baltimore, the Community Service Award.
Mr. Dovid Eagle, the president of Bais Lubavitch, was presented with an award, as well, for the indispensable part he played in helping the Cheder get to where it is today.
"It's worth a trip from anywhere to honor Rabbi Lisbon, for all he's done for my grandchildren and my son and daughter-in-law, and also to honor Rivka and Mendel Hurwitz–we've been friends forever and a day, and I am so proud!", commented Mrs. Swerdlov.
Dr. Volosov acknowledged, "The Baltimore Jewish Community has expanded over the last 20 years and as it has expanded it has become more diverse, and that is what tonight's program is all about–celebrating that diversity. And, I look forward to more and more. We have many different tribes, faces and personalities, and we need to value them all."
Cheder Chabad's Board of Directors acting president Sam Handwerger remarks were simpatico with those of Dr. Volosov: "I think it is just wonderful that the community is coming out in support of Cheder Chabad. That is the wonderful thing about living here–Baltimore is an eclectic community. Everyone lives in one small neighborhood and everyone loves each other."
Cheder Chabad parent Chani Tenenbaum, told BaltimoreJewishLife.com: "As a parent of several children in the Cheder, I am very pleased with their education and the passion that they have acquired for yiddishkeit."
Rachel Rossman, a second year pre-school teacher's assistant at Cheder Chabad, opined: "I think the Cheder has come a long way and it is incredible. It also has a very unique approach to education, which I have shared with other schools."
Rabbi Ephraim Sorkin, Cheder Chabad's elementary school's new principal, remarked, "I have taught in other schools and this is the first school I have worked in, in which every single boy is excited to come to Cheder, every day.
Gala attendee, Mr. Ephraim Tunick, offered a brocha for the continued success of the Cheder: "The Cheder should go from strength to strength and be matzliach to provide the building block foundation for the children in their Jewish education." Fellow community member, Mrs. Esther Moses added, "We're extremely excited that there is a Lubavitch Cheder in Baltimore, after waiting so many years and we are already reaping the fruits of their learning.
"We are humbled by the show of support that the Gala displayed, and invite you to come and see for yourselves the wonderful bastion of chinuch as Cheder Chabad joins the ranks of the other mosdos Torah in Baltimore," Rabbi Lisbon told the BaltimoreJewishLife.com.
Co-founder Alisheva Givre, perhaps, best summed up all of the Gala attendees' sentiments, adding: "It is everything I hope for. We had a dream for this school and it is amazing to see it unfold."