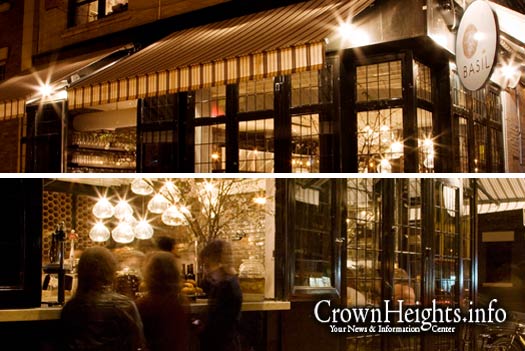 Photo Courtesy Basil
RETRACTION AND APOLOGY: a previous version of this letter alleged that the op-ed in question was slanderous. The letter writer retracts the allegation being that it was hyperbole. The letter writer also apologizes that the letter was taken as a personal attack on the op-ed author's. It was not intended as character attack, rather as a sharp criticism of the op-ed author's ideas. It has been edited in this new version for clarification.
An Open Letter to Mottel
Dear Mottel,
Your op-ed, A Fire Burns in Crown Heights: An Essay on Religion, Modernity and Pizza, was based on false pretenses. It misunderstand everyone attacked in the long and erroneous expose (with its ensuing comments) on the current tensions between the so-dubbed zealots, the restaurants, and the men and women on the streets of Crown Heights. Its view of the situation is narrow; its ability to influence is limited; and its solutions may be effective in Nevel or Never Never Land, but not in Crown Heights. Your advice is not helpful.

The notion that a loving mass re-education is going to change the face—err, the body—of Crown Heights is naively optimistic. Everyone has heard whatever it is you want to tell them and most people do not care. You will not change them no matter how you sugarcoat and repackage your message.
Your pristine picture of Lubavitch as a model for all Charedi communities is not going to happen without chasing away everyone who does not adhere to the Rebbe's instructions and the tznius/Chassidish rulebooks. Crown Height will not be a safe place to raise a chassidishe child as long as people identifying themselves as Lubavitchers are conspicuously violating basic obligations of frumkeit. The "fire" you perceive will only be extinguished if the message advocated in an interview by the Zealot Ringleader is shoved into everyone's faces, "live like a Chosid, or move out." He rightly insists that the best solution to Lubavitch's image problem is to make life uncomfortable for those who do not conform. Make rules like other communities have done that force people to abide by them if they wish to be accepted. Harass them in the streets and ban their children from learning in chassidishe schools. Alienation is the only effective method, even if it means that most of the population and money will leave the community.
If you believe change is required on a communal scale, quit hiding behind Ahavas Yisroel and take a stand. Enough with this insistence that the Rebbe would mekarev people in kind and gentle ways hoping that they will come around. These stories about shopkeepers who were open on Shabbos and eventually decided to shut down are irrelevant. We are not dealing here with ignorant Jews who are open to Jewish growth. The Rebbe's supposed approach is inapplicable and futile in the present circumstances. The people in question will not be conquered or appeased.
These are graduates of Tomchei Temimim and Beis Rivka. They know all about the importance of wearing sheitels, covering their legs, keeping their beards, and dressing in a chassidish manner. They have made the conscience, capable, and informed decision to reject these requirements of frumkeit. That is right, reject. No amount of nudging, lecturing, farbrenging, pleading, or guilt laying is going to change their attitudes. It is condescending that you suppose people just do not know what is expected of them.
Lubavitch bochurim are trained from a young age about wearing chassidishe levush, keeping a beard, and iskafya. From at least as early as mesivta, they are told about the importance of chassidishe hanhogos and levush. They were all instructed by older chassidim not to go to this place or that and they learned what is acceptable behavior by immersion in Lubavitch society. Some take these lessons more to heart than others, but everyone has heard the pitch.
Lubavitch girls are told repeatedly throughout their school-lives how long their skirts must be, how high their blouses have to be buttoned, and how to cover their legs. They have meetings and classes where the rules of tznius are expounded, its observance is lauded, and the cataclysmic effects of not keeping tznius are forewarned. The rules and reasons are not a secret kept by the chassidish-enlightened for those that return to the fold. Far from being ignorant, Lubavitch women are inundated with the idea of tznius by the time they reach adulthood.
The people you intend to reach out to do not reject these aspects of their upbringings because they are lagging behind and need a boost. They do it because these things are inundating. They have lost the hergesh that makes someone on their own volition go beyond what makes them comfortable. It is unpleasant to walk around in stockings and turtlenecks in ninety-degree heat. Sophisticated young people do not want to look like Tevyeh the milkman or some sloppy old woman from the same time-period. Do you not understand that people are uncomfortable looking otherworldly and nerdy, which is true of most of the people in our community lauded for their tznius dress? (If you think this untrue, just ride a train in the dead of winter and see how easy it is to spot the Frum people.) Has your limmud haChassidus truly contained your ta'avas halevush?
Face it; our rules have nothing to do with modesty and formality. If they did, plenty of contemporary fashions are out there that fit those requirements but do not include black felt fedoras and woolen skirt suits. Our society has added norms of tznius and fashion that go well beyond halachik requisites. Our rules are about looking different from society, conformance, and suppression – if not, why are things like blue shirts and jean skirts stigmatized?
The dogmatic things that we do as frum Jews and Chassidim are suffocating – both literally and figuratively. There is nothing emotionally wrong, as some commenters on your op-ed have suggested, with people who cannot resign to do things that do not make them feel good or do not agree with them. Dressing "down" or un-tzniusly is not necessarily a promiscuous thing that people – married and single, men and women – do only to attract the opposite sex. Young people want to achieve some level of comfort, normalcy, and uniqueness. Comfort for themselves, normalcy toward the outside world, and uniqueness in their own Chassidic world. (This discussion carries over into their modes of thought and behavior, but ein kan hamakom liha'arich bazeh.) Accompanying these desires is an overlying desire to achieve status in all sectors.
Mendelson and his crew understand young people, notwithstanding their intolerance for them. They know that you will not change those who are not interested in being changed. People will not embrace the way of life that they shed – to whatever degree they have shed it – just because they receive the message from a community leader, teacher, or even a loved one. It is something stifling and unappealing and no one can force them, or make them love, to do what they do not want to do. The only option left then for those wishing to fix the image of Crown Heights is to somehow get rid of these defiant individuals, or rather, segments of the community. The only way to practically accomplish that is through serial harassment to make people's lives so uncomfortable that they will leave on their own. It is not pleasant or mentchlich, and probably not legal, but it works.
Your calls for restraint and acts of loving kindness are commendable but naïve. They simply and demonstrably do not work. For as long as people in Crown Heights are left at peace, the problems of tznius, lack of chaddishkeit, and failure to keep basic frumkeit will be intractable.
I admit that I would be a prime target for this harassment given my personal state of observance and dress (thankfully I have somewhere to run away to).
To be sure, I do not support such a draconian approach. I brought out this extreme to show you the absurdity and impracticability or your proposal or any proposal that seriously wants to solve the problem. It is too late. Besides the fact that many of the people that would be chased away are the financial backbone of the community, Crown Heights would cease being a community when it becomes exclusive and family, friends, and the people who have always defined this community leave.
There is another approach, but it will not satisfy you. It does not involve putting out the Crown Heights' fire, but I recommend it anyway. Accept the people who do not follow the rules as: your own, the Modern Lubavitch, or what have you. Whether you consider them brothers or the monsters that Lubavitch created, they come from the same homes, schools, and backgrounds as you do. You can either own up and accept that they live in your midst or cast them away like Mendelson. Without digging too deep, you can surely find that you share more common ground than differences. With a little work, understanding, and compromise, you might realize that we can all be a community, just as we have been until now. And maybe by seeing you continuing to live a chassidishe lifestyle and raising children with the same values, they may come around.
Granted this does not accomplish any of the goals that one would wish a solution would accomplish. For that, you need the Mendelson approach. Instead of a solution, you may just have to accept mediocrity. Sure, Lubavitch will be the laughing stock of the Charedi world and earnest chassidish people will not be able to raise their children in a perfect frum and tznius community. The attraction to the modern world will only increase as this young, carefree Modern Lubavitch evolves into a beast that hardly resembles chassidishkeit. Or, maybe they will change for the better and collectively decide to draw a line. Who knows?
I am not telling you to accept it out of arrogance, but out of inevitability. Accepting it as reality would at least lighten your stress, realizing it is out of your control. You can then stop making such a himmel geshrei every time you walk on Kingston Avenue.
Sincerely, YKW
P.S. Basil's existence and misbehavior are symptomatic of the condition of Crown Heights and, likewise, inevitability. There is a demand for an upscale, fashionable restaurant where all the people who are not worried about iskafya – a good portion of the Crown Heights population – can go indulge their palates, flaunt, and watch other people. See also: Bunch-O-Bagel. While I think it would be nice to respect the sensitivities of the Schuna – and they have by caving to some demands – they ultimately are providing a service for which there is no shortage of local consumers.