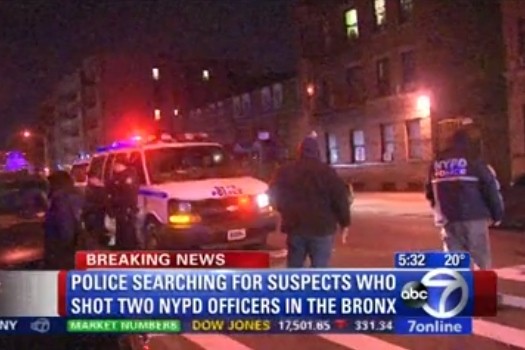 A manhunt was under way Tuesday for at least two suspects who shot and wounded two New York City police officers responding to a robbery in the Bronx. Both officers were listed in stable condition.
Police say one of the suspects may have been wounded in the gunfire. They were trying to determine whether a man who later walked into a hospital with a gunshot wound to his back was connected to the incident.
The shooting occurred around 10:30 p.m. Monday near East 184th Street in the Tremont section. The officers were coming off their shift when they and three other plainclothes officers responded to a report of a grocery store robbery.
"They went above and beyond the call to protect their fellow New Yorkers. Thank God the officers are doing well and will recover," Mayor Bill de Blasio said at the hospital where the officers are recovering.
Click here to continue reading at the AP.
Update: Arrests Made.