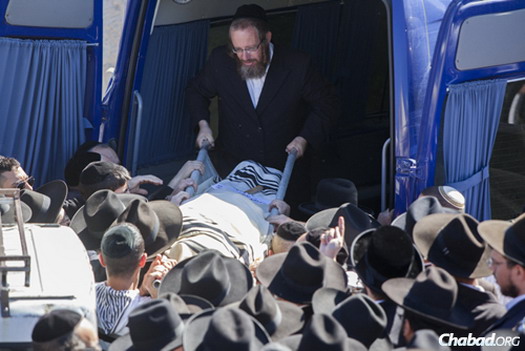 The funeral of Shalom Aharon Badani, a 17-year-old yeshivah student who died after a terrorist rammed his minivan into a crowd waiting for a train in Jerusalem. Photo: Yonatan Sindel/Flash90.
A 17-year-old yeshivah student died of injuries sustained when he was run down by a terrorist's van at a light-rail station Jerusalem earlier this week. It was the second death resulting from an attack that also killed a border police officer and wounded more than a dozen bystanders and police.
The student, Shalom Aharon Baadani, was laid rest on Friday at Jerusalem's Givat Shaul cemetery. His funeral was attended by thousands, including Israel's Sephardic Chief Rabbi Yitzchak Yosef. A second Israeli remained in serious condition, according to a spokesperson for the Hadassah Medical Center.
On Thursday, thousands attended the funeral in the northern Druze village of Beit Jann of Israeli Border Police officer Jedan Assad, 38, who was killed in the attack. He is survived by his wife and a three-year-old son.
The killer, identified as Ibrahim al-Akary, 48, a member of Hamas who lived in the Shuafat neighborhood of Jerusalem, was shot and killed by police at the scene.
The attack took place at a light rail station on the corner of Bar Lev and Shimon Hatzadik streets. The terrorist continued driving along the tracks, hitting several cars along the way. After crashing into another vehicle al-Akary got out of the commercial van with a metal bar and began attacking a group of policemen before Border Police at the scene shot and killed him.