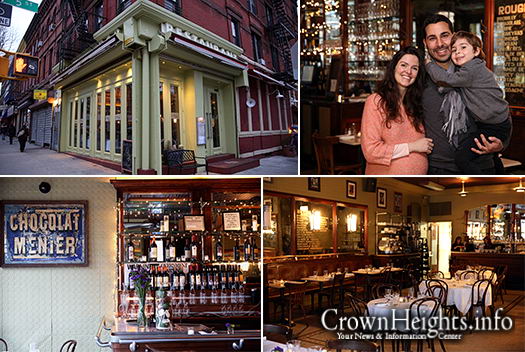 Park Slope has not been home to a kosher restaurant, well, ever. That changed when owners of a popular authentic French Bistro decided to make a change. Along with a new name, a French chef and Kosher certification, Chagall reopened earlier this week.
The restaurant, formerly known as 'Belleville', is now called Chagall. According to the owners Dan and Sonia Halimi the inspiration for the new name comes from the Jewish Russian artist Marc Chagall, who upon leaving Russian settled in the Belleville neighborhood in Paris, which is also Dan's birthplace and neighborhood where he grew up.
Originally from France the Halimi's were not always restaurateurs, Dan made a living in real estate while Sonia worked as a journalist. Talking to CrownHeights.info Sonia said her husband has history with working in restaurants, and they had heard about this place called 'Belleville' which was up for sale.
Interested, they made the trip to New York and they immediately 'fell in love' with the place. "we felt [that] it was so authentic and Parisian and something happened, the charm, I don't know, the bug bit" said Sonia. "We decided to jump and just leave everything we have and just come and take this restaurant over."
Both traditionally observant Jews, it was strange for Dan and Sonia to have this restaurant in which they could not eat. Not sure what they had in mind for the future of the establishment, their executive chef indicated that he wanted to make a change. Taking this as a sign they shut down the restaurant and made the switch.
The restaurant closed on the 18th of February and wanting to give the place a new look, they painted, Kashered, renovated the bathrooms and added a netilas yadayim sink, changed the name, hired an authentic French chef. All this in just two short weeks.
Boasting a new menu created by chef Jean-Claude Teulade, a veteran of the famed French restaurant La Côte Basque. For now Sonia says that they are operating on a reduced menu so that the chef can 'get used' to the new menu and they will expand as they get more comfortable.
The restaurant reopened this past Thursday, February 28th, and has been welcoming customers who have found out about them by word of mouth alone. Tuesday night the restaurant saw over 40 customers based on just word of mouth.
Chagall serves beef, poultry and fish and is  under the supervision of OK Kosher.
Chagall
330 5th Street, Brooklyn, NY 11215
718-832-9777
Mon-Thu: 5:00pm to 10:30pm, Sun: 10:30am to 3:30pm and 5:00pm to 10:30pm