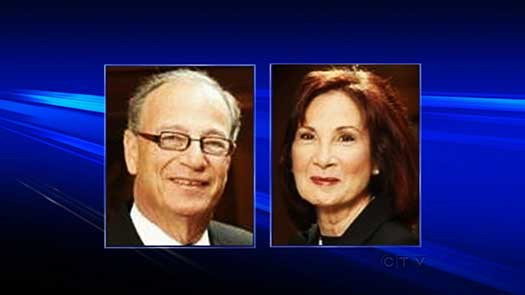 The Chabad community in South Broward, Florida and Jewish community in Toronto, is still reeling following the shocking and senseless crime which claimed the lives of two of their 'snowbird' members, David "Donny" Pichosky, and his wife Rochelle Wise from Toronto.
The couple was found dead in their Hallandale Beach condo after not being seen for a day and not answering phone calls. Local police are investigating the incident as a double homicide.
In his weekly email Chabad of South Broward's Rabbi Mordy Finer wrote how they were all stunned  and are in mourning after the double homicide of David and Rochelle.
" Donny was a member of our Main Congregation for 20 years, and since marrying Rochelle, the couple regularly attended our services and Rabbi Mordy Feiners' Tuesday night Parsha class. They were the sweetest and most refined couple, and we were honored to have their presence grace our Community." Rabbi Finer wrote.
Over 1,000 attended funeral services for the couple in Toronto at the Shaarei Shomayim Congregation.
Wise's son, Jamie, said in a eulogy that he was "confused, frozen, angry, shocked and broken… searching for information, answers, resolution and justice. These questions won't stop, and shouldn't stop, until justice is found."
He recalled his mother's gift for connecting with people and her ability to "inspire, teach, and encourage people to dream… to see the potential within them."
Wise was a preschool administrator at Bialik Hebrew Day School and a founding director of Crestwood Valley Day Camp.
Pichosky, her husband of four years, was a retired businessman who volunteered with seniors at Baycrest, and had spent at least 20 years wintering in Florida.
Jamie Wise said his mother had "truly found her bashert" in Pichosky, whom he recalled as kind and gentle.
Her son read from a note his mother had left for him and his sister, which he said was "not meant to be read for many years."
She told them, "Please remember what I taught you about love and kindness, respect for others, and your responsibility to the Jewish community. Remember to acknowledge daily the gifts and blessings God has given you."
Wise's daughter, Dina Shapiro, recalled her mother as an "incredible, loving, formidable, charitable woman" who was devoted to her family and her work.
As well, she said, her mother began to write books with Shapiro's daughter once she learned to read. Shapiro also read a recent children's book that Wise and Pichosky collaborated on.
"They brought so much joy to each other… and to all who spent time with them," she said.
Pichosky's daughter, Sari Rosenblum, recalled a loving father who made lunch for her every day when she worked around the corner from him at her first job.
A widower when he met Wise, Pichosky had known his first wife, Sandra, from the time he was 12 years old. They were married 46 years. Religion became "an essential part" of Pichosky's life after he kept a promise to God to become observant if he survived brain surgery in his late 20s, Rosenblum said.
Rabbi Finer's email concluded with words of comfort and how the Tuesday night Parasha class, which they regularly attended, was dedicated in the memory. "May the Pichosky and Wise families know of no more pain. Hamokom Yenachem Oisom Bisoch Shar Aveilei Tzion ViYerushalayim. May they only know of Simchas in the future, amongst all of Israel."