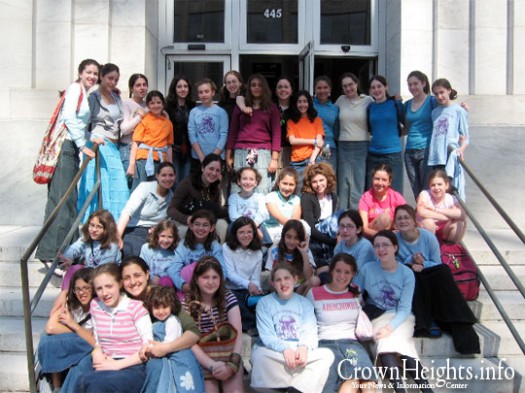 Troy, NY — For three weeks this summer, a unique summer overnight camp took place in Troy, NY. Bat Mitzvah Camp is an overnight camp for Jewish girls ages 9-15 located at the Beth Tephilah Synagogue and Russel Sage College campuses. Founded by Nechama Laber, the camp is an expansion of the successful Bat Mitzvah Club and Bat Mitzvah Day Camp in Troy. "The lessons, activities and trips inspire a unique sense of Jewish unity and pride amongst the campers and counselors," Laber says. "At BMC, our differences disappear and Jewish girls from all backgrounds become one." As well as the many local girls who joined this year's program were girls from New Jersey, Massachusetts, Canada, Florida, and Brooklyn.
This year's camp theme was 'Journey to Freedom". Each day, campers explored another aspect of the Jewish people's journey to freedom from Egypt to Israel, and how we can apply those lessons to our own journey through life. "I like BMC because it makes you realize that everything in life is a lesson." Remarks Nechamie Stempel, age 11. "I learned to explore my inner beauty and what it really means to be a good Jew."

Each day featured an exciting trip related to what the girls learned. Campers floated down the 'Nile River' when they went Tubby Tubing, took a tour of ancient Egypt at a local Art and History Museum, and learned about survival in the wilderness at a nature center. The girls learned to appreciate the Creator through the world around them as they hiked through limestone cliffs and observed waterfalls.
Bat Mitzvah Camp also encourages creative expression and helps campers explore their talents. Clubs such as drama, choir, dance, writing, and baking were headed by experienced counselors. The last day of camp, featured a drama, song, and dance production put on by the campers of Bat Mitzvah Camp. Fifteen-year-old Leah Larson who is the editor of the Yaldah magazine for Jewish girls, helped write the script for the production and headed the camp journal. "When we split up into clubs, you could feel all the creativity in the air. In one corner girls were practicing dance moves, other girls were writing poetry, and some were laughing and baking together. Each girl got a chance to express what she learned at Bat Mitzvah Camp through her talents."
Even more than the exciting trips and activities, it is the dedicated counselors who make Bat Mitzvah Camp a warm and loving environment. The counselors, who come from as far as Vancouver, Chicago, Toronto and Pittsburgh, make each girl feel special, needed, and loved. "I have been going to BMC since I was ten years old." Sixteen-year-old Rebecca Hertzberg says. "Camp is like one big family and we are all close." The younger campers look up to older campers, and the older campers treat the younger girls as little sisters. "I love BMC because there is so much unity and self respect," says Ahuva Soibelman, age ten. "At camp I feel loved and respected and I learned a lot from all the girls."
Head counselor, Zelda Gutnick, came back for her fourth summer at Bat Mitzvah Camp this year. "Bat Mitzvah Camp isn't just an ordinary summer camp, it's a family!" she says, "Every child that comes to Bat Mitzvah Camp doesn't just belong to her individual bunk and individual counselor, but she becomes part of the family as a whole. This camp is about having real fun, making true friends and becoming a mature young woman with the guidelines that will assist one for the rest of ones life."
Bat Mitzvah Camp offers girls a well rounded, meaningful, and fun summer experience filled with moments of self-discovery and Jewish pride. The atmosphere is exciting and nurturing for both body and soul to grow and flourish. Campers discover talents and develop social skills. With an emphasis on self expression, tradition and community, every camper leaves Bat Mitzvah Camp with greater self-confidence, Jewish pride, and life long friendships with girls from all backgrounds and affiliations.
For more information about Bat Mitzvah Camp visit www.capitalbmc.com or contact Nechama Laber at (518) 833-0704 or info@capitalbmc.com.