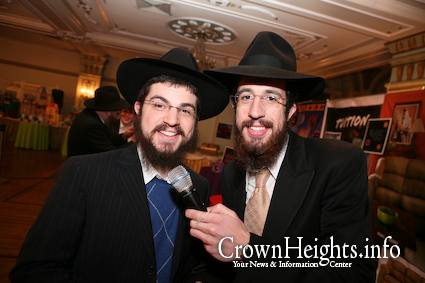 by Paula Roth – The Jewish Daily Forward
Mendy Pellin (right) with singer Benny Friedman at the KSCVK Auction.
Over footage of burning buildings, Israel Defense Forces troops and the Israeli prime minister, the straight-faced anchorman intones: "Great news out of Israel: Ehud Olmert has announced that the second Lebanon war was a success…. Another of Olmert's notable successes is his attempt to comb over his bald spot." Yes, it's a satirical newscast, but not "The Daily Show"; nor is it "Weekend Update" from "Saturday Night Live." On "The Mendy Report," news is delivered by a long-bearded Hasid wearing a velvet yarmulke at a rakish tilt.

Mendy Pellin, a 25-year-old Lubavitch comedian and ordained rabbi, launched his online newscast and Web channel, ChabadTube.com, in November 2006. Since then, he's built an international audience. Segments posted by fans on blogs and on video sites like YouTube and Google have drawn more than 500,000 views.
Collaborating with his friend Peretz Golding, the show's co-writer and senior editor, Pellin produces episodes from a studio in the Crown Heights neighborhood of Brooklyn, where he resides with his wife, Shulamit. The show's only correspondent, "Menachem" Pellin, bears a suspiciously uncanny resemblance to Mendy, but the host insists that "he's no relation." Featured segments include Chabad, Israel and world news, and "The Weekly Wink," where Pellin explores such issues as "the secret to making the best latkes" (he uses frozen ones) and parking shortages (with a tape measure, he calculates that the 9,240 extra inches between cars equal 77 parking spots).
As the show enters its third season, Pellin will begin branching out into a new genre. In what he calls "a marriage of education and entertainment," Pellin has partnered with the Jewish informational Web site askmoses.com and launched "AskMosesTV," an online program featuring such educators as rabbis Simon Jacobson and Yosef Y. Jacobson, and segments like "Kabbalah Kitchen" and "Torah TV." The show will debut February 18, coinciding with the season premiere of "The Mendy Report."
For now, Pellin is best known for his comedic work. He receives appreciative e-mails from secular and religious Jews and, increasingly, non-Jews. A YouTube comment — "What a cool Hasid!" — explains his appeal. When Pellin took a hiatus from creating new episodes, a police officer stopped him, demanding, "When are you coming off your break?" At 770, the main Chabad shul on Eastern Parkway, even teachers who, at one time, had kicked him out of class for his shtick interrupt him constantly.
But Pellin has also created controversy. After "The Catwalk Hasid" episode, when Pellin sashayed down the annual Brooklyn Best Festival's runway in his black hat, frock coat and white shirt, an angry Lubavitch man started the "anti-Pellin blog." Pellin drew parents' ire when, closing one show with a fake call from his wife, he answered, "Hi, sweets."
While he's aware that children look up to him — he can't film on Eastern Parkway when Chabad's largest boys' school, Oholei Torah, lets out, or he'll be mobbed — Pellin doesn't see himself as a role model. "I have this burden to watch what I'm doing. It's a tough balance," he said. "Comedy is about being on the edge, and if you're super cautious, you can't do anything." Still, this comedian has a mission: "Today it's impossible to shelter kids from pop culture. I'd like to be a fun, positive alternative. Instead of this big matzo ball of guilt that's defined the Jewish mindset, it's important to instill pride in kids by showing them the beauty of their religion."
When asked about his sign-off, "The shnowzal stops here," Pellin laughed. "That's the ever-mysterious word I get the most e-mail about, an inside joke between me and my friends. Let's leave it at that."