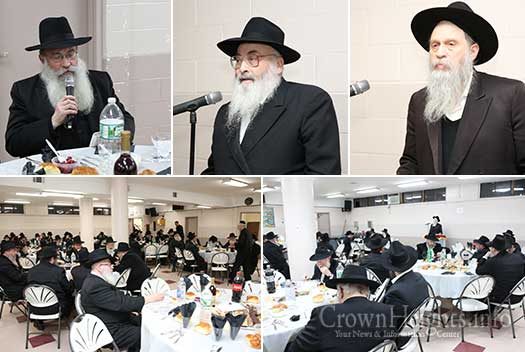 Friends and supporters of G'mach Keren Yisroel Aryeh Leib turned out for a seudas Melava Malka last night, Motzai Shabbos Parshas Terumah.
The crowd heard from Rabbi Michoel Seligson, who gave over a Sicha of the Rebbe.
Following was a report from Rabbi Moshe Bogomilsky, the G'mach's administrator, who detailed the financial state of the organization. He also spoke about the founders of the G'mach, Rabbi Herschel Fox, OBM, and Rabbi Herschel Moscowitz, OBM and detailed all the "Kronos" that are in effect and that help people, and in whose named they are dedicated.
Rabbi Bogomilsky told the gathered crowd "some might say that they could not attend because it is too far, or that it is too cold, but this would be a poor excuse." He went on to introduce Mrs. Dvorah Fox, wife of Reb Herschel who made an special effort to attend. As he was introducing her Rabbi Leibel Altien walked in as well, "if [they] are are here then no one has an excuse."
G'mach Keren Yisroel Aryeh Lieb, which is named after the Rebbe's brother, is one of the Mosdos that were established in honor of the Rebbe's 70th birthday, after the Rebbe called for the establishment of 72 new Moisdos.