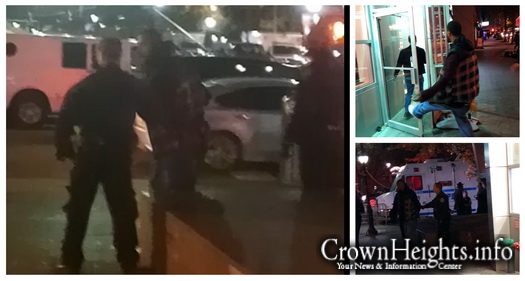 In a bizarre scene, a man was detained in Mendy's restaurant this evening, following an altercation with an employee. Police officers from the command post on Eastern Parkway and Kingston were on hand, and part of it was caught on video.
by crownheights.info
The incident happened around 9pm, when a black man entered Mendy's restaurant. The man, known to the employees, had been detained by the police in Mendy's in the past for other violent incidents.
One of the employees who happens to volunteer for Crown Heights Shomrim, immediately went to alert police officers on the corner of Kingston and Eastern Parkway. Upon returning, with the police in tow, he found the man spitting on another employee. A scuffle ensued, and the police placed the man in custody.
"He has been taken into custody at least three times that I know of," the Shomrim volunteer said, "every time he is out right away."
The man was transported to Kings County Hospital for treatment.
It is notable that there has been an increase of mentally unstable people in the Crown Heights, as the city continues to place housing for them in the area.