Sunday - 3 March
26 Adar I
Lchaim
Bentzion (ben Yaakov) Sheinberger (Coral Springs, Fl) to Dobi (bas Mordechai) Vogel (London, England) Time : 8:30 PM

FREE - 1383 President Street - Between Kingston and Brooklyn Avenue
Community Event
N'shei Chabad Chinese Auction, Ten Points Of Lights - N'shei Chabad Mivtzoim Chinese Auction. Featuring Sara Karmely/ Tambourines Academy of CH/ Clara Landsman's musical group. Delicious hot Fleishig buffet. Auction viewing: 6:30. Program 8:00. Admission $18 - includes one free $18 auction ticket.

Lubavitcher Yeshiva - 570 Crown Street - Corner Albany Avenue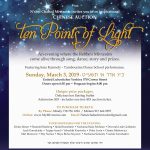 Community Event
Tehillim And Bitachon Event and Phone Conference Time : 6:00 PM - Tehillim at 6:00, followed by R' Sholom Mordechai Rubashkin who will deliver divrei hisorerus, strengthening our emunah and bitachon in his speedy recovery! All are invited to join via phone: 515-739-1520 #333658.

Cincinnati