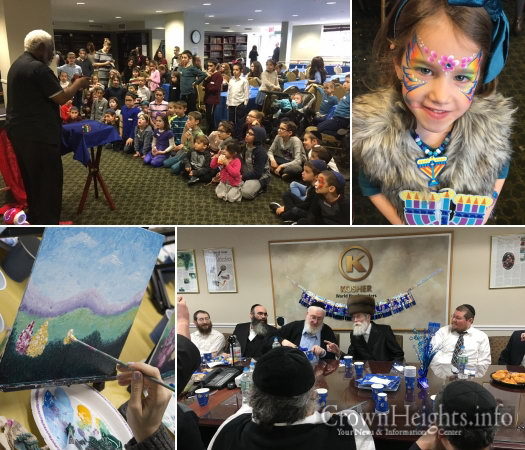 This year, OK Kosher Certification topped all previous events with Chanukah parties for its staff and their children that were a smashing success!
On the first day of Chanukah the ladies of OK Kosher were treated to a morning out with a creative and relaxing painting class led by Estee Klein of Brushstrokes by Estee. The Aliyah Center on East New York Avenue was transformed into an art studio where over 40 ladies got in touch with their artistic side and created beautiful paintings of a mountain scene. With a combination of experienced and novice painters, each person created a masterpiece that reflected their own personality and creativity. Each participant was pleasantly surprised to find some innate and unexpected talent! Following the painting session, the ladies were treated to a scrumptious lunch, catered by OK-certified Brooklyn Artisan Bakehouse. The delectable menu featured Bakehouse's famous breads and soup and a main course of branzino. Of course, dessert was the apex of the menu, with an assortment of hot beverages and delicious dairy cronuts.
On Monday, the 6th day of Chanukah, the children of OK staff were treated to a fun morning out! Held at The New Bais Medrash at 580 Crown Street, over 80 children KA"H gathered together for crafts and entertainment. Starting with a breakfast of pancakes, French toast, egg burritos and yogurt parfait from OK-certified Bunch O Bagels, the excited kids filed into the hall to get ready for an exciting day. It wouldn't be Chanukah without face painting by the talented Pnina Hanoka of FaceArt by Pnina, who was joined by her daughter Chaya for twice the painting fun! Princesses, tigers and butterflies filled the room by the time the painting was done! The kids were also treated to Chris the Master Magician, from Magical Nights, Inc., who filled the room with suspense, laughter and excitement with a variety of tricks, illusions and even pets! We rounded out the morning with sand art, Chanukah crafts and a delicious lunch from Bunch O Bagels featuring salads, mozzarella sticks, penne vodka, French fries, fish sticks, and, of course, donut holes! The kids left the party proudly painted and carrying their OK shopping bags filled with crafts, each one thanking the staff for making a party even better than last year's!
Not to be left out of the fun, the men of OK Kosher had their own luncheon on Zos Chanukah featuring the famous badchan, Rav Yankel Miller. Amidst joyous song, Divrei Torah and a sumptuous lunch of salmon, salads, sandwiches and cronuts, catered by Brooklyn Artisan Bakehouse, the rabbis and male staff members of OK Kosher spent some much needed time enjoying the Torahdik comedy of Badchan Miller. Regaling them with puns and witty anecdotes based on Divrei Torah, as well as some traditional "shvigger jokes", Rav Miller engendered close to an hour of camaraderie and simcha in our third floor conference room. Laughter filled the floor and provided a joyous ending to a beautiful Chanukah.