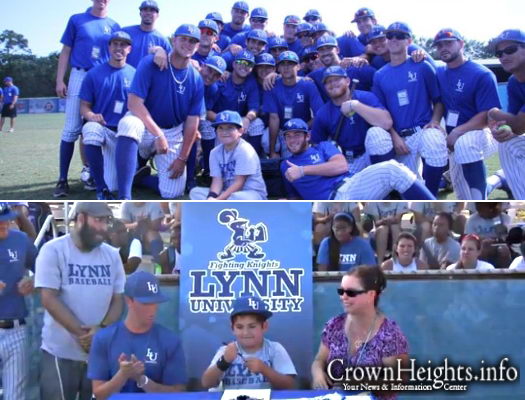 It was with much fanfare on Monday afternoon that head coach Rudy Garbalosa proudly announced the signing of 10-year old Ari Cohen to the Lynn Fighting Knights at a press conference surrounded by family and friends at the Lynn University Baseball Field in Boca Raton, FL.
Cohen joined the Lynn baseball family through Team IMPACT, a program dedicated to improving the quality of life for children facing life-threatening and chronic illnesses by establishing and expanding vibrant team-based support networks.
"All Ari does when he comes home is sign about his baseball friends; he loves coming to the field," said Leah Cohen, Ari's mother.  "When Ari plays by blowing his whistle, riding the golf cart with Kyle [Butcher], pitching with T.J. [Sullivan], doing field work with A.J. [Falleta] and Coach Donavan [O'Dowd] or sending the boys off to run with Coach Rudy [Garbalosa], it's all an outlet for him to be a kid.  No doctors, therapies, testing or hospitals, just guys stuff. "
After a series of smaller diagnoses, including Spina Bifeta Occulta and Tehtered Cord Syndrome and neurosurgery to correct TCS, Ari was diagnosed with Trisomy 9 Mosaic, a genetic chromosomal disorder characterized by having three #9 chromosomes rather than the usual two.  While most people diagnosed with Trisomy 9 Mosaic lose their battle before their first birthday, Ari continues to defy the odds.  His syndrome manifests itself in his spine, brain and lungs and he deals with lower cognitive functions, trouble walking and moderate hearing loss in addition to a paralyzed vocal cord and a lack of muscle tone in his mouth to produce words.
"It has been an amazing experience watching Ari, our baseball team and coaching staff begin a lifelong relationship," said Director of Student-Athlete Services Sara Quatrocky.  "It is great that sports is a way for our student-athletes to make a difference in people's lives."
Ari began attending fall practices with his parents and sister on September 18, and slowly built a relationship with the baseball team.  After finding his niche with the squad, he has learned to be just one of the guys.  At the press conference, Ari was presented a personalized Lynn baseball shirt from Garbalosa.
"Ari has truly been an inspiration to me, our baseball team and Lynn University," said Garbalosa.  "Our guys have taken on this tremendous responsibility, learned from it and began to reap the benefits of this experience.  I can only hope that this relationship continues to grow from here on out."
"When you ask about how [Ari being with the baseball team] is life changing, I don't think any words can be put to that feeling, but anyone who was there today felt it, knew it, and loved it" Cohen added.  "Coach Garbalosa keeps telling me 'thank you for bringing Ari, – the guys love him' and that just leaves me speechless.  Here are grown men running for Ari at the blow of a whistle and sweating on the field for a 10-year old boy. But the truth is, I should not be that surprised; look at their leader. Coach Garbalosa leads his team not only in sportsmanship but in kindness and empathy to others."
Lynn is the first University in the state of Florida and the Southeast Region to join forces with Team IMPACT.  Throughout the Northeast, Mid-Atlantic and Midwest, Team IMPACT enhances the lives of these children by matching them with college athletic teams. Through a structured 'matching methodology,' the program establishes and cultivates relationships to ensure a successful experience and that meaningful bonds are formed. The result is an extended support network from which the child can derive more laughter, strength and support. For each and every member of the participating athletic team, the experience provides inspiration and perspective.
"Team IMPACT couldn't be more thrilled to partner up with Lynn University for our first match in Florida," said Payson Sword of Team IMPACT.  "As we expand across the country, we look for teams and universities that really embrace our program and more importantly the families that they welcome with open arms. The Fighting Knights baseball team has done an incredible job so far and we couldn't be more excited to see their relationship develop over time."
Other institutions and their respective athletic programs to work with Team IMPACT are: Boston College football and basketball, Harvard swimming, Saint Anselm's hockey, Holy Cross baseball, Tufts women's soccer, Southern Connecticut baseball, Southern New Hampshire hockey, New Hampshire women's basketball and most recently Northeastern's men's basketball team.