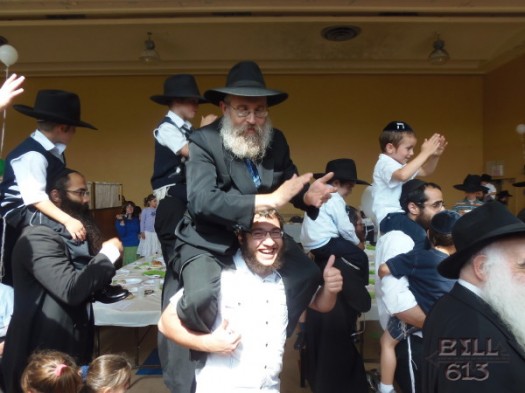 This week, over 30 boys celebrated their entrance to Cheder in Lubavitcher Yeshiva of Montreal, Canada, and the parents were invited to join in the celebration.
Hachanasa LeCeheder, or arainfirenish, in an ancient custom mentioned by scholars such as Rabbi Yaakov Emden, where on the first day of Cheder, the boy is wrapped in a Tallis, learns a little Torah, and licks honey off a paper with words of Torah. Some people also give candies and eggs to the boys, and all of it serves to teach the children that the Torah is something very sweet.
Usually it is followed by a Seudah, and in the Lubavitch Yeshiva the boys entering Cheder were given seats in the front as the parents sat down for a Fleishig meal. Then, Rabbi Yosef Charytan, the Yeshiva's new principal, introduced himself and warmly welcomed the boys.
First grade teacher Rabbi Yossi Wilansky spoke about the importance of Cheder and blew the Shofar. The children were then called up to read several Pesukim off a cake which was cut and distributed after which the parents danced with their sons.
The Seudah was organized by Shternie Mockin.